Domaine Cyril Courvoisier
Cyril Courvoisier
/!\ Available for export from vintage 2021 /!\
Domaine's creation

Born and raised in Jura, Cyril Courvoisier studied to become an agricultural engineer and to obtain his degree of œnologist. He was for years head of cultivation at Domaine Colombo in Cornas.
In 2011 he began to acquire fallow lands and worked hard to prepare them for planting vines, both within Saint-Péray and Cornas appellation areas. Cornas plots are located right in the cirque of Cornas, on Les Côtes and Chaillot plots, both granitic hillsides, fresh terroir by their altitude and exposure.  Saint-Péray's Rochette is quite and elevate parcel (500m alt.) with granitic soil which tends to strengthen the mineral character of the wine. A smaller plot, in the south of the appellation is much warmer, allowing the future production of two Saint-Péray with different styles.
Cyril also cultivates three tiny plots in the village of Mauves, planted with 40 years old Syrah vines, on Saint-Joseph appellation. The terroir would be more appropriate to grow white varieties but in these times of unusual heat it is much appreciated to obtain fresher red wines.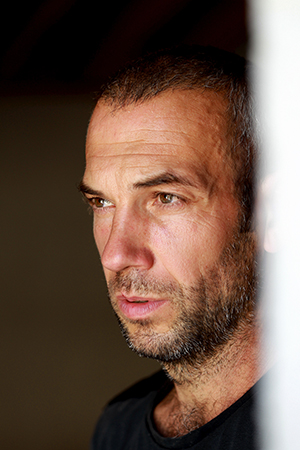 Viticulture

The soils are not only granitic, there is also a bit of clay under some Chaillot terraces, some loess and sedimentary areas. Cyril encourages the biodiversity in his parcels by mulching and leaving grass, and surrounds them with hedges, grass or dry-stone walls. The soils are mainly worked by mean of a winch and a horse. Harvest is obviously manual, so are all the tasks initiated to maintain both the soils and the vines.
In total, with less than 3 hectares, the domaine covers three key Northern Rhône appellation and isn't meant to extend as Cyril prefers to focus on taking out the best from the great lands he cleared. A significant advantage being they were never treated with any weed killer or pesticides, Cyril working organic since the beginning. The vines haven't reached yet the yields expected as plantation occurred between 2015 and 2019.
The ecological engagement isn't limited to the vineyard, Cyril's philosophy leads to a global intelligent approach of winemaking with low environmental impact.
Vinication
The years that Cyril spent as a manager in a well-established winery probably allowed him to get a precise idea of what his "ideal" domaine would look like. He built next to his house, a convenient cellar with low energetic needs. The wooden structure has been supplied by local artisans, insulation is ensured by the reliable materials, gravity powers the wines transfers, vertical press is powered by human energy and the cellar has been dug to enjoy natural freshness.
The grape is gently crushed and pressed in the vertical press, Cyril let the must settle a little while and fermentation happens in a steel vat by mean of indigenous yeasts. The wine is racked and transferred underground in 300 to 400 litres casks where it will remain 9 months. Slight filtration and sulphuring before bottling.
Cyril works with whole bunches that he leaves in steel tanks for few days before crushing and punching on a regular basis. The maceration last 12 to 20 days, and fermentation goes quite fast, only by means of indigenous yeasts. The grapes are then pressed and the wines age in barrels for 8 to 18 months. Slight sulphuring before bottling, but no filtration on the reds.
Email us at export@salmanazar.fr to get further information regarding cuvées' availability and distribution opportunity.