Domaine Dupraz
Jérémy Dupraz
Domaine Dupraz's story started in 1880 after a farm of Chambery's Hospice, got specialized in wine making. Fernand Dupraz was then the winemaker. Today the domaine still stands in the original farm, in Apremont,  surrounded by different mountains and mounts: Les Bauges, La Chartreuse, Belledonne and Le Mont Granier (which partly collapsed in 1248, covering the area with limestone).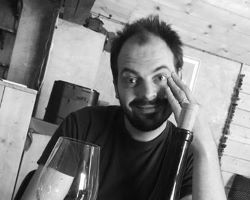 Gerographic situation
Bourget lake (bigger French natural lake) is very close and has strong influences over Apremont where the climate offers good rainfalls, very hot days and cool nights in summer, very cold winters.
Dupraz's vines are mostly gathered in "clos", surrounded by woods on every side. The environment is therefore very important to consider in the terroir understanding, playing a key role regarding biodiversity and climate influences.
Contrasting with Apremont appellation's practices Marc Dupraz, Jeremy's father, was the first producer to leave wild grass between the rows and was selling his production to the cooperative created by his own father. Jeremy joined the domaine after an experience in computing. He came up with a modern, ecofriendly vision of the viticulture, wishing to give up on the chemicals used in the vineyard, to stop chaptalization, and to work with indigenous yeasts. The Dupraz viticulture and winemaking integrated upgrading technics which gave the wines more character and complexity. It was decided to eventually bottle the production.
New generation: Jérémy
In his early 30s, Jeremy is a dynamic vintner working with basic equipment and very dedicated to transmitting his passion to anyone showing interested by organizing guided tours and friendly tastings. The domaine is 12.5 hectares and should reach 20 hectares by 2021 after taking over some family plots. It will obtain the organic label in 2020 with a project of biodynamic culture for 2022. No weed killers, pesticides or industrial yeasts are used in the production. The harvest is manual, sometimes quite late to pick the grapes with enough sugar to balance the acidity. Jeremy does light work between the vines to control the wild grass growth. He mows only between the rows to preserve the ecosystem. The heavy rains permit such a natural cover of the soil. Jérémy fully participates in up grading Apremont's reputation thanks to his dedication in the vineyard and efforts to sublimate his native grapes. By harvesting later than most of his peers, he is able to produce wines with more complexity, and better balance.
Production
The main variety at Domaine Dupraz is the native white Jacquère which is particularly at ease on Apremont and Abymes soils. Dupraz's ones are varied: limestone, red clay, pink granite, chalk, blue clay, and some schists. The wines are planted around 450m alt. on gentle slopes. The domaine also produces white Altesse (AOC Roussette de Savoie), and Mondeuse, the indigenous Savoie red grape. He therefore offers a complete range with the best expressions of Savoie vineyard.
Email us at export@salmanazar.fr to get further information regarding cuvées' availability and distribution opportunity.