Domaine Pierre Ménard
Pierre Ménard
Pierre was born in a family of vintners based in Faye-d'Anjou (South of Angers), in the Loire Valley. His parents own a vineyard in which Pierre grew and learnt about viticulture but no vinification as the crop was sold to the local cooperative. After completing a degree of agricultural engineering, Pierre travelled for some years and learned a lot at Ramos Pinto (Douro), Disznókő (Tokaj), Château Latour and elsewhere in Canada and New Zealand.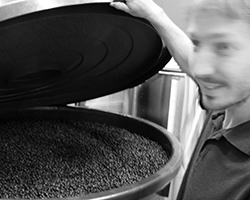 Viticulture
Back in Anjou, he took one more year of experience by working in the area, then came the time to give birth to the project he had in mind. In 2013, with a small plot of centenarian Chenin vines he partly got from the family vineyard, Pierre produced his first cuvée Quart des Noëls. By 2016, he had grown to 1,5 hectares and now owns 3,5 hectares still around Faye-d'Anjou. In the last years he dedicated 100% of his work time to his domaine.
Since he started, Pierre has always been making "haute-couture" wines. In the vineyard he takes care of his soil with mechanic interventions and banished synthesis products. He protects the vines from diseases with herbal infusions. The grape is hand-picked in several passages to obtain a crop with perfect maturity. Expending his vineyard step by step, Pierre has added different plots of Chenin and later Sauvignon and Cabernet Franc.  Half of the domaine's vines are young and haven't reach their regular yields yet, so Pierre wants to focus on these and doesn't plan to grow much: consistent decision as he manages both vineyard and cellar on his own.
Vinification
For the vinifications Pierre has the same level of quality requirement. The bunches are gently pressed and the juices ferment thanks to indigenous yeasts mostly in barrels, also demi-muids and sandstone jars. Pierre doesn't do much batonnage and uses the minimal dose of sulphur, yet his wines are rigorously precise and pure.
Le Clos des Mailles is the domaine's second cuvée of Chenin proceeding from a plot with the same name, in the terroir of Faye-d'Anjou, the village where Pierre still lives and works. The vines are planted on a schist slope next to the Layon river with North-West exposure. They were planted at three different periods, so they are 6, 25 and above 100 years old.
In addition of dry Chenin and red wine from Cabernet Franc, Pierre produces a cuvée of sweet Chenin called Cosmos and proceeding from the pressing of botrytis grapes. It is vinified in steel tanks and glass bottles, residual sugar content reaches 160g/l.
Currently available
« Clos des Mailles » 2018
100% Chenin – AOC Anjou – vinified & aged in barrel – Schist soil
« Cosmos » 2018
100% botrytis Chenin – AOC Coteau-du-Layon Faye – 160g/l
Email us at export@salmanazar.fr to get further information regarding cuvées' availability and distribution opportunity.